If you're looking for cute girl name that's as adorable as nothing found in-universe, look no further as the following list of charming holy names will suit your little one. Having a pretty name smells like roses to everyone! A name is something that will become a significant part of a person's life, whether they like it or not. So it's essential to choose a suitable name wisely!
If you're carrying a baby girl, congratulations! You have a long list of sweet names to choose from. Whether you seek something adorable, attractive, loving, quirky, or something a little more offbeat, we've got you! We've rounded up cute girl names perfect for your little one. Let's dig deep through the list. I'm pretty sure you're going to love it.
---
Check out the Cute Girls' Names from A to Z 
---
A
Find our  Girls names Start from A. These meaningful baby girl names give you best choices to your baby girls. 

Addison – son of Addie
Adley – God is just
Agnes – pure
Amara – everlasting
Amelia – Industrious
Amie – Friend
Arabella – Beautiful Lion
Aria – air
Aspen – Cold water
Aubrey – Noble Ruler
Aurelie – golden
Ava – Like A Bird
Avery – Elf King
Aaroha – Always Ascending
Arora – Dawn
Aamu – morning
Aasha – Hope
Aasta – Love
Aba – Father
Abena – born on Tuesday
Abequa – Stays at home
Abigail – My Father is joyful
Abina – born on Tuesday
Abiona – born on a journey
Abla – Full-Figured
Abra – father of many
Abrina – Smart
Abyan – Clear
Acacia – thorny tree
Anish – supreme 
Acantha – thorn
Accalia – Mythical
Acelin – Noble
Anona – Goddess Of The Harvest
Aricia – Princess of royal blood
Ariel – Lion of God
Arien – Enchanted
Arietta – Home ruler
Arika – forever or alone
Arleana – Oath
Armida – Little armed one
Armilla – Bracelet
Asha – Wish
Ashanti – thank you
Asher – Blessed
Ashia – Hope
Ashira – Wealthy
Ashley – Ash tree meadow
Ashling – dream
Ashton – ash tree town
Atara – Crown
Athali – God Is Exalted
Ayesha – Woman Life
Aza – comfort
Azalea – Dry Flower
Azariah – Helped by God
Azelia – not jealous
Azora – sky blue
B
These pretty unique girl names include some rare girl names and also common names. So you have a choice. Have a pretty name tour!
Bailey – berry clearing
Beatrice – she who makes happy
Bexley – woodland cleaning
Birdie – little bird
Braelynn – Strong
Brea – Beauty Beyond Sight
Bree – Hill
Brinley – beautiful flower
Brooklyn – Broken Land
Bella – promise of God
Brittany – From Britain
Bryony – to sprout
Buffy – yellowish-brown
C
If you want to find cute girl names starting with c, then you are in the right place. My favourites are Canilia and Clarina. What's yours?
Callie – beautiful
Cecily – blind
Chloe – blooming
Clara – Bright
Colette – Victorious
Cora – maiden
Cadey – pure
Cadie – a rhythmic flow of sounds
Cadynn – A rhytmic girl
Caitlyn – Pure beauty 
Caesarea – Leader
Cahaya – light
Cedrica – kindly and loved
Ceegan – fiery
Celena – the moon
Celestia – heavenly
Chaand – The moon
Chaaya – Shadow
Chadley – Beautiful Soul
Clarice – bright or clear
Clarina – bright
Clarisin – brilliant
Cianna – beautiful
Ciara – dark-haired
Cyra – throne
Cyrah – sun
Cyrena – Mother of Aristaeus
Cyrilla – Mistress
Cyan – Light Blue-Green
Czarina – Female Ruler
D
There are some cute girl names related to nature in below list. Their meaning are so beautiful. I made this list from my own experience guys. So let me know your thoughts.
Dahlia – Dahl's flower
Daisy – day's eye
Dakota – friend
Dale – valley
Daphne – Bay tree
Darby – The Deer Park Farm
Diem – Day
Dacey – from the south
Delilah – delicate
Derora – Running Streams
Devon – defender
Dora – gift
Dove – Bird Of Peace
Dusty – Thor's Stone
E
Look our cute baby girl names starting with e. There are some cute boy names also. So if you are expecting a baby boy, then that's also fine.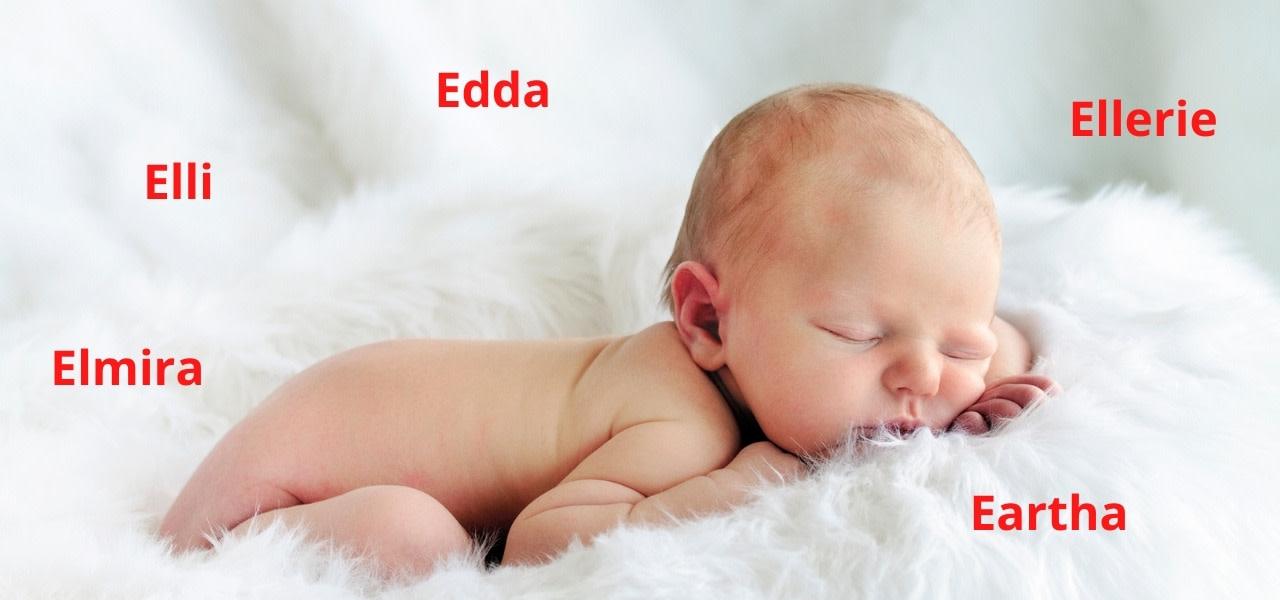 Eden – delight
Effie – Fair flame
Ellerie – cheerful
Elsie – God is perfection
Embry –  Work Rule
Emma – whole
Everly – From The Boar Meadow
Evie – life
Eadoin – Jealousy
Ealga – noble
Earlene – nobleman
Eartha – Worldly
Easter – at the end of Holy Week
Eavan – Fair Radiance
Ebba – fortress of riches
Eberta – Intelligent
Ebony – Dark Black-wooded Tree
Ebun – Being a gift
Eca – Bird
Echo – reflected sound
Eda – Happy warfare
Edana – Noble
Edinburgh – Edwin's fort
Edda – With Clear Goals
Eden – Paradise
Edeva – Expensive present
Edina – Prosperous Friend
Edith – riches or blessed
Ediva – strife for wealth
Efrata – fruitful
Egan – Little Fire
Ehani – Song
Ehawee – laughing maiden
Eilah – tree
Eileen – bright
Eira – snow
Esperanza – hope
Elka – noble one
Ekua – born on Wednesday
Elle – she
Ellen – shining light
Ellenora – sun ray
Elli – noble
Ellia – the stranger
Ellice – God is Lord
Elliston – My God is Jehovah
Elmina – determined protector
Elmira – noblewoman
Elodie – foreign riches
Eloisa – famous warrior
Elora – My God Is My Light
Emerald – precious gemstone
Emere – Rival
Emilia – industrious
Emma – universal
F
These cute baby girl names beginning with F are some beautiful choices for you. Some names can be also used as unisex names.
Fawn – Young deer
Faye – fairy
Fiona – fair
Fleur – flower
Faiza – victorious
Fenella – fair or white shoulders
Fia – wild
Finola – White shoulder
Fiona – White
Fumiko – Little Friend
G
As the seventh letter in Alphabet, It can be lucky for your daughter. In my personal opinion, Names starting with G would give some strength and uniqueness to your baby girl.
Gabriella – strong man of God
Gracie – Grace Of God
Gloria – Glory
Grace – kindness
Gratia – Grace
Grazia – Grace
Gwen – holy
Gwenda – Blessed
H
The below list includes beautiful sweet names that can suit different nationalities. On the other hand, Some are modest, and some are rustic. Select what you want, moms!
Hadley – heather meadow
Harper – Harp Player 
Hartley – From the stag's meadow
Hensely – one who is ambitious
Hope – Desire Of Fulfilment 
Harika – miracle
Hazel – God sees
Heidi – Nobility
Helen – Shining light
Hilda – battle
Hilma – famous battle
Hirkani – Small diamond
Honey – nectar
Hulda – weasel or mole
Hyacinth – the blue larkspur flower
I
Looking for unique and cute baby girl names starting with the letter I? Then here you are. I listed the most cutest names for girls ever, including my favorites Isla and Isabel.
Ida – industrious one
Imogen – maiden
Ines – virginal
Ireland – land of bright-headed
Isabella – pledged to God
Isla – island
Ivy – God's Gift
Idona – Active in love
Imara – Strong
Ina – queen
Iona – Purple Jewel
Isabel – God Is My Oath
Ivonne – young archer
J
Girl names starting with J can be like a Jem for your girl. Look around. I will add more cute names in the future.
Jade – precious green stone
Jane – Yahweh is gracious
June – Young
Juniper – young
Jacky – may God protect
Jacoba – Supplanter
Jeliana – Child of the gods
jelia – God has answered
Jelani – powerful
Jioina – farmer
Jinsy – God is Gracious
Jiniya –  a flower
Jinia – maiden
Jehane – Yahweh is merciful
Jheel – Lake
Jharna – A stream
Jhanvi – Ganga river
Jhansi – queen
Jeffie – fair and smooth
Jacqueline – May God protect
Jacyn – The Supplanter
Jada – he knows
Joanna – God is gracious
Joaine – God is gracious
Joaida – Yah knows
Juli – youthful
Juhi – jasmine flower
Juhainah – unmarried woman
Judzea – female warrior
Judith – Praised
Jwala – flame
Jwahir – light
Jyotsna – moonlight
K
If you're in search of cute K names for your baby girl, look no further. Because, we will get you covered. There will be lots of names on the way.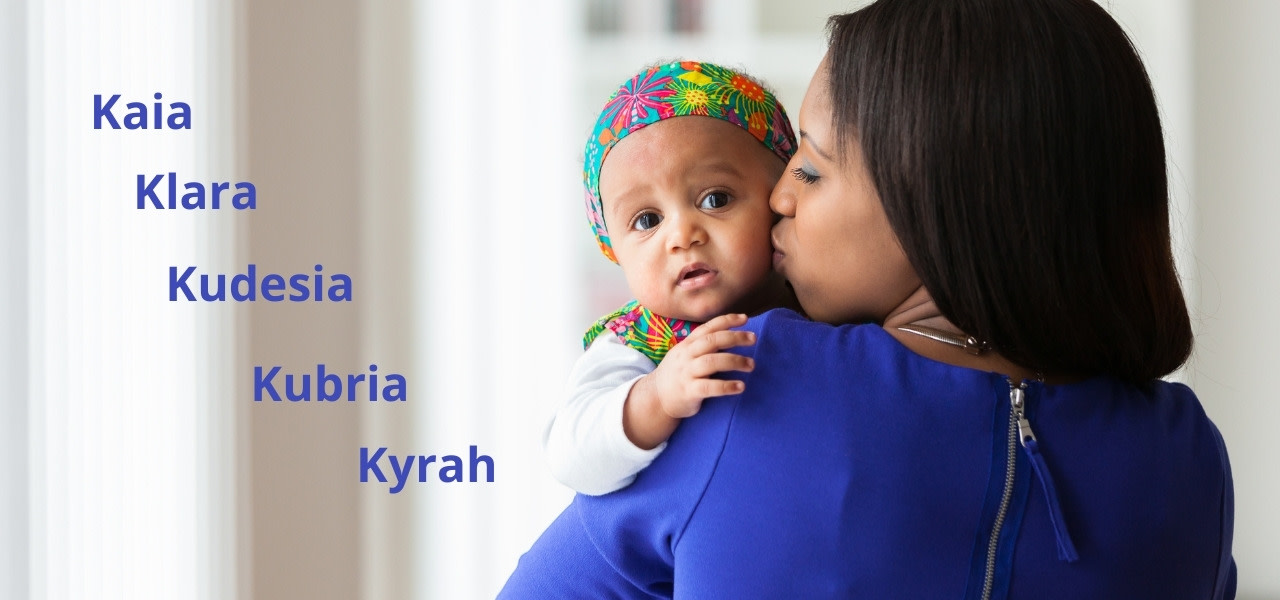 Kaia – Pure
Kennedy – misshapen head
Kenzie – The fair one
Kiera – Dark
Kaci – watchful
Kadal – The deer's head
Kadeja – premature child
Kadence – with rhythm
Kiana – God is gracious
Klara – bright
Klaare – bright
Klaara – famous
Knaval – Gracious
Knarik – lyre
Kyoko – Respectful
Kyra – black
Kyrah – Lord
Kyrenia – mermaid
Kyria – Womanly
Kyrie – Lord
Koyal – A Bird
Kiah – Person Of Earth
Kjersti – a Christian
Kjellfrid – beautiful
Kloey – young green shoot
Kloe – verdant and blooming
Kader – Power
Kubria – great
Keanu – Cool Mountain Breeze
Keani – The Wave
Kealoha – The loved one
Kealii – Chief
Kealani – Clear heaven
Keala – The Path
khaleesi – queen
Khaista – Beautiful
Khaira – The Best
Khagen – Bird
Keahi – Flames
kubwa – unknown
Kudesia – A pure person
Kuhaki – Enchanter
Kuhu – Sweet Note of the Bird
Kulap – rose
Kuma – Bear
Kumani – Destiny
Kumari  – Princess
L
From pure Lily to moon Luna, I have plenty of girl names with the letter L in my list. I can indeed say that one of them would be perfect for your little sweety.
Layla – night
Lily – pure
Luna – moon
Laban – White
Lacey – from Lassy
Lachan – From the land of lakes
Lacy – from Lassy
Ladona – lady
Lady – lady
Laertes – Father of Odysseus
Lafayette – faith
Laguna – pond
Laidh – the son of the fair warrior
Latifa – gentle
Latika – goddess
Latisha – Joy
Latona – Greek Goddess
Latoya – Victorious one
Lena – Woman Of Magdala
Lenna – trong as a lion
Lenore – Light
Leonie – lioness
Lorna – alone
Luz – light
Lyra – Lyre
M
Are you looking for cute baby girl names starting with the letter M? Browse the below list, including different names with a different number of syllables.
Madeline – Woman Of Magdala
Mae – bitter or pearl
Makena – happy one
Merritt – boundary gate
Mia – beloved
Mila – gracious
Madge – Pearl
Maia – great
Maida – maiden
Maina – Messnger Of God
Mansi – spiritual devotion
Maya – illusion
Mieko – Already Prosperous
Mindy – Love
Ming – shining bright
Mira – wonderful
Mona – noble or aristocratic
Monica – to advise
Morag – Great
Muriel – sea
Myra – Behold
N
If you want a cute name for your daughter with the letter 'N,' then this list is yours. I will grow it more and more. So always be with us.
Naya – new
Nova – new
Nadiya – hope
Nadine – hope
Nahara – light
Nairn – river with alder trees
Naomi – pleasantness
Napoleon – lion of the new city
Nash – by the ash tree
Nasir – victorious supporter
Natasha – Born On Christmas Day
Navali – Princess of love & relief
Ned – Wealthy Guardian
Nedra – underground
Nela – horn
Nem – others
Neola – Youthful
Nicola – victory
Nila – dark blue
Nilda – ready for battle
Nola – Fair Shoulder
Nona – ninth
Nysa – goal or ambition
O
Girl names starting with O are literally rare and highly fashionable names. I'm pretty sure that they will suits the next hundred years too.

Olive – olive tree
Oriana – golden
Odina – Divine Creative Inspiration
Olena – yellow
Olga – Blessed
Omyra – myrrh
Oneida – Eagerly Awaited
Opal – precious stone
Oprah – Gazelle
Orane – rising
Orsa – little female bear
Ottilie – prosperous in battle
Ouida – Famous Warrior
Ozette – large lake
P
All the Babies are the love of your life. But baby girls are gems of your life. So, choose the best name for your cutties. This list would help you find the perfect cute name!
Paislee – church
Paloma – dove
Pearl – pearl
Penelope – weaver
Penny – Coral
Piper – Flute Player
Posie – A flower
Q
Are you struggling with searching girl names with the letter Q for naming your little princess? Because they are so rare. But I will add more and more names. Keep touching with us!
Quinn – descendent of Conn
R
Please have a look at our list of cute names that start with the letter Q. With this list, I'm sure that you can find suitable baby name options. 
Rae – female sheep
Rayna – counsel
Rose – rose
Rowan – little red-haired one
Ramona – wise protector
Rhea – flowing stream
Rima – story
Ruth – Friend
S
Check out our modern and cute baby girl names that start with the letter S below. If you have a baby girl or are expecting one and looking for unique names, then read on!
Sadie – Princess
Sahara – desert
Scarlet – Red
Sicily – Sea monster
Sloan – Expedition
Sophie – wisdom
Stella – star
Samantha – God Heard
Selena – Moon
Sania – brilliant
Sona – wisdom
Star – Star
T
Hey moms, I gathered the below names from my personal experiences because girl names starting with T are one of my favorites. They are all so unique and have beautiful meanings.
Taylor – tailor
Teagan – attractive
Thea – goddess
Tinley – Dennis' Field
Tamara – date
Tammy – palm tree
Tara – Queen
Tatiana – fairy queen
Tecla – God's glory
Tia – joy
Tiara – Crown
Tian – heaven
Tyra – fighting thunder goddess
U
As we know, Cute names with the letter U are so rare. But if you are expecting your baby name to start with U, That would be so unique. So I hope the below list also will help you.
Uri – God Is My Light
Uma – fame
V
Ever wonder why there are so many girls with the name Victoria? Because it's so cute. But it may be too familiar. If you want baby cute girl names that start with V, but not too common, then have a look at our below list. There may be your future baby girl name!
Viola – Violet
Veda – Eternal Knowledge
Vega – dweller in the meadow
Velma – determined protector
Venus – Goddess Of Love
Victoriya – conqueror
Vidya – knowledge
Vina – Beloved
Viveca – War
W
Girl names that start with the letter W are my next rare names. But in my opinion, these cute names give your baby much more strength and confidence feeling. Because it has some strong sound, so try it also!
Waverly – meadow of quivering aspens
Wilda – Untamed
Wendy – Friend
Winona – firstborn daughter
Weylyn – Son of the wolf
Willa – protection
Willow – graceful
Wyndra – otter
Wynne – fair or pure
X
Among cute names that start with x for girls, my favorite is Xylia. What's yours?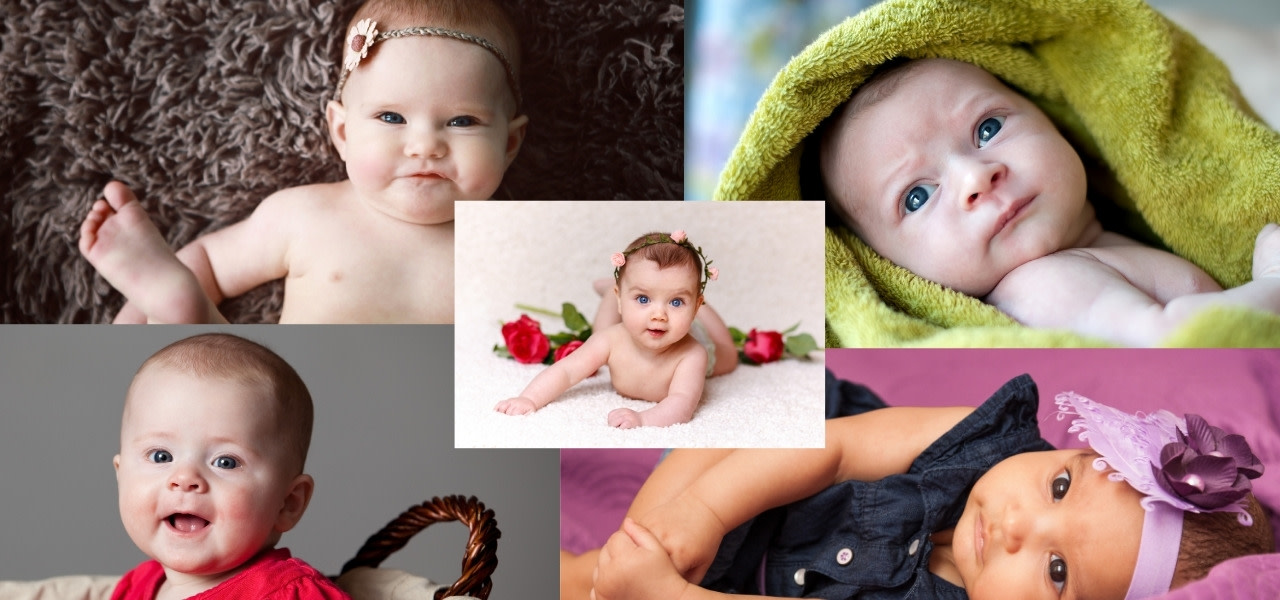 Xael –  from the sea
Xiu – Beautiful
Xylia – From The Forest
Xoey – Life in Greek
Xiomara – stranger
Y
This letter may be one of the least chosen letters by parents. But don't ignore them because there are so many cute and rare names such as Yareli and Yohani.
Yvette – God is Merciful
Yadira – Worthy
Yana – He Answers
Yareli – water lady
Yolanda – Violet
Yoshiko – Beautiful
Yuki – happiness
Yusia – Save
Z
Are you struggling with searching for cute girl names that start with the last letter of the alphabet, letter Z, then you definitely at the right place. We have a list below.
Zara – radiance
Zaylee – Dry
Zinnia – Flower
Zoe – Life
Zuri – beautiful
Zain – beauty
Zahara – flower
Zia – light
Zu – Knowledgeable and voracious reader
Zana – God Is Gracious
---
What Girl Name means Pure? 
---
Agnes
Cadey  
Kaia  
Lily
Wynne 
---
What Name means Princess?
---
Sadie – Princess
Navali – Princess of love & relief
Kumari  – Princess
khaleesi – queen
---
What Name means Love is Beautiful?
---
---